Malta is known for the different cuisines it offers. Just like Chinese Restaurants. There is also an exclusive list for the Indian Restaurant in Malta that's going to spice your taste buds.
Malta may be a small fish in the Mediterranean, however, you are surely going to find your favourite Indian Restaurant in Malta.
In this article, we will go through twenty Indian restaurants for you to choose to enjoy the spicy Indian cuisine.
Ghandi Tandoori
With over 30 years of experience, Gandhi Tandoori is one of the best Indian restaurants in Malta.
The in St Paul's Bay located restaurant serves an all-you-can-eat buffet on Saturday and Sunday.
The buffet includes a wide selection of delicious sauces plus 1 starter for only €14,85.
For the ones who are vegan, lactose intolerant or allergic to glutens this is also the place to be. Gandhi Tandoori serves a special buffet every Thursday.
This Indian restaurant in Malta uses unique and traditional recipes. The experienced Indian chefs carefully select and prepare local dishes of various regional states of India.
Star Of India – St Paul's Bay
If you're looking for an authentic Indian restaurant in Malta then you've come to the right place at Star of India.
With its panoramic views overlooking Xemxija Bay it's a beautiful place to be.
This lovely Indian restaurant in Malta serves traditional Indian food made with only the finest and freshest ingredients.
The chefs are very experienced and familiar with Indian cuisine by working in top class restaurants for years.
It doesn't matter if like your food with no spices, soothingly mild or dangerously hot. The chefs can prepare each item on the menu totally to your liking.
In this way, it will always suit your own taste!
If you don't have time to sit down and have a meal in the restaurant, you can also take away the whole menu.
Saffron Indian Restaurant – San Ġiljan
The name of this Indian restaurant in Malta refers to the special spice Saffron. Saffron means ''Kesar'' in India and it resembles the orange-yellow sacred colour of beginning, truth, sacrifice, abstinence and salvation.
That's exactly what the restaurant in St. Julians (Paceville) stands for. The chef, Sudip, prepares many authentic dishes together with an experienced team of Indian professionals.
At, Saffron Indian Restaurant, prepare for a spectacular experience and get ready for all the specialities India has to offer.
Sudip, an expert on authentic food and delicacies, loves travelling and puts all his knowledge and expertise in his food.
Through his experiences and long career Sudip learned a lot from various cultures of the world.
This inspiration is put in the restaurant Saffron, and you can really notice and taste this in the wonderfully prepared dishes.
Sudip eventually decided to settle in his beloved Malta and has been here for over a decade. Definitely try to visit this Indian restaurant in Malta!
Rasoi – San Ġiljan
Rasoi is one of the most attractive Indian restaurants in Malta. It has a Food Bar area and a complete open kitchen, where you can see your own food being prepared by the chefs.
If you like to eat in the fresh open air it's also possible because there is a nice outside area by the pool.
The menu offers typical Indian food which include chicken, pork, lamb, fish and prawns.
If you're looking for vegetarian and vegan food Rasoi is also the place for you. All the dishes are prepared by award-winning Indian Chefs.
Rasoi is not completely new – it was first known as SaReGaMa, occupying a spot at the Fortina Hotel since 2011.
Fortina was closed for refurbishment so the restaurant moved to the Dean Hamlet hotel, next to the Anvil Pub.
The three-star hotel is known to be cheap and host English language students for three weeks every summer, but don't let that put you off- Rasoi is still worth a visit!
Sharma Ethnic Cuisines – San Ġiljan
Sharma Ethnic Cuisines is not just an Indian restaurant in Malta, it offers a great selection of authentic Arabian dishes as well, making it an Ethnic Cuisine.
Besides the great curry and other Indian dishes, one can also enjoy a selection of Arabian appetizers such as dolmah and falafel, but also Arabian main dishes such as koftah and kebabs.
As one of the best rated Indian restaurants of Malta you can't avoid it. In all the reviews is reflected that only authentic Indian ingredients are used, typical Indian dishes are served and the service is great.
Visit this Indian restaurant in Malta and experience their passion for food.
Katrina's – Mellieha
Katrina's is not only a traditional Mediterranean restaurant, but also one of the best Indian restaurants of Malta.
Both Maltese and Indian dishes are served. Plenty of choice for everyone!
A wide range of starters and main dishes are served, as well as a beautiful selection of desserts.
For drinks you're also at the right address with a variety of wines, cocktails, beers and whiskeys.
What is better than a Kingfisher beer to accompany your spiced curry?
During the day Katrina's is also open for coffee and desserts and with it's good location on the main road you can go there daily to meet up with your friends and family.
Annapurna – San Ġiljan
Annapurna has a mixed cuisine of Nepalese, Indian and Asian dishes. This
Indian restaurant in Malta based it's a menu on the most typical Nepali, Indian and Asian recipes, recreating the authentic flavours and subcultures that influence the dishes.
Annapurna remains true to the flavours and techniques. The result is a tasty traditional dish with a modern twist.
What's special about the ingredients is that it's sourced from local and sustainable farming. The spices are also ground fresh. This makes the dishes of high quality and extra tasty!
Enjoy a sustainable and lovely dish in the heart of Malta at Annapurna.
Kahinoor – Marsalforn
Kohinoor offers a lovely mixed cuisine of Mediterranean and Indian dishes. With a wide range of freshly prepared dishes by highly trained and experienced chefs, Kahinoor is the place to be.
This Indian restaurant in Malta is located on the sister island Gozo. Kohinoor even serves a wide range of pizzas!
Service is important in this Indian restaurant of Malta since the hosts are all lovely and welcome you with a big bright smile.
Don't miss out on this great restaurant when you pay a visit to Gozo!
Emperor of India – Paceville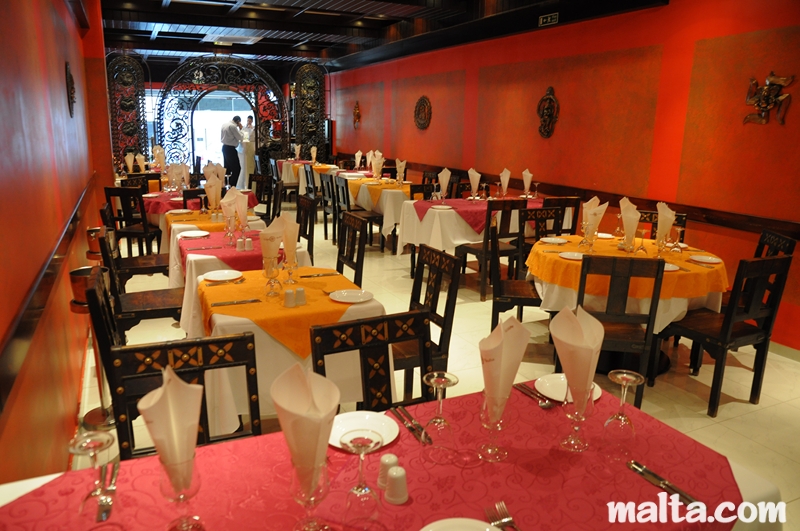 Emperor of India opened it's doors in 1994, and has always offered traditional northern Indian specialities.
The dishes are all based on family recipes passed down from generation to generation.
The ingredients used are all purposely-imported or locally sourced, in this way the best quality is reached.
This Indian Restaurant in Malta balances great quality and tradition and has won numerous accolades. Coupled with rave reviews from loyal customers over the past three decades.
Feel welcome and experience the uniquely Indian "Khane-ka-Maza".
House of Spice – San Pawl il-Baħar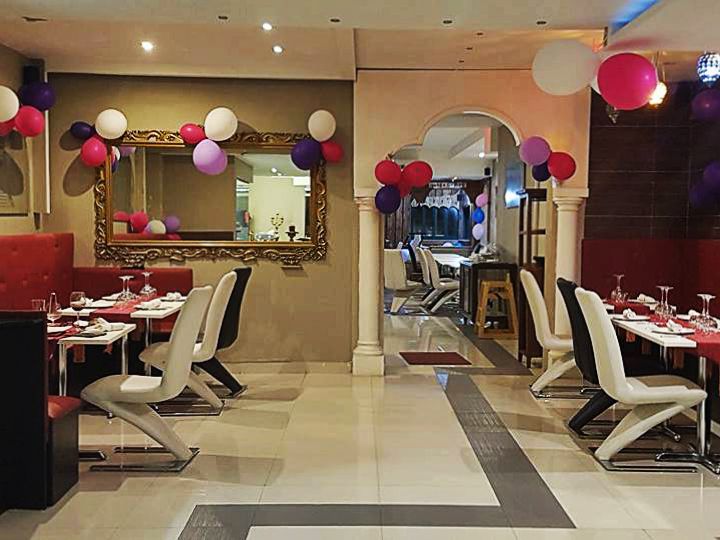 House of Spice serves the unique combination of Pakistani, Indian and Bangladeshi dishes.
This Indian restaurant in Malta provides a pleasantly entertaining, energetic and vibrant style of dining.
You can choose all the worldly dishes a-la-carte-style. There is also a wide choice of menus: special combos for families and friends, a special menu for kids with beverages of richer quality.
Next, to the food menu, there is also a wide range of drinks to choose from- freshly squeezed fruit juices, alcoholic beverages and ice teas. You can also get healthy snacks here!
Don't miss out on this popular place in Malta.
Tuk Tuk -Valletta
This Indian restaurant in Malta is located in the beautiful capital, Valletta.
When going to TukTuk it feels like you've ended up in India, the restaurant offers you unique impressions and tasty experiences.
TukTuk is inspired by the food hawkers of India, with a combination of local dishes such as dosas and savoury chaats. Don't miss out traditional Indian dishes such as different kinds of curries.
Not only resembles the food the tastes of India, but there are also gluten-free, lactose-free, vegetarian and vegan options.
Next, to the tasty food, there is also a great service and a friendly atmosphere.
All the freshly cooked food can also be delivered straight to your doorstep or available for takeaway.
Go get this outstanding food inspired by Indian street hawkers now!
Book a table
If you are still looking for something extra then look at our restaurants in Malta.
Book a table with us and make the most of our dining deals. More to come!
If you are a fan of a magnificent view while eating then read our guide about all the Valletta Waterfront Restaurants.